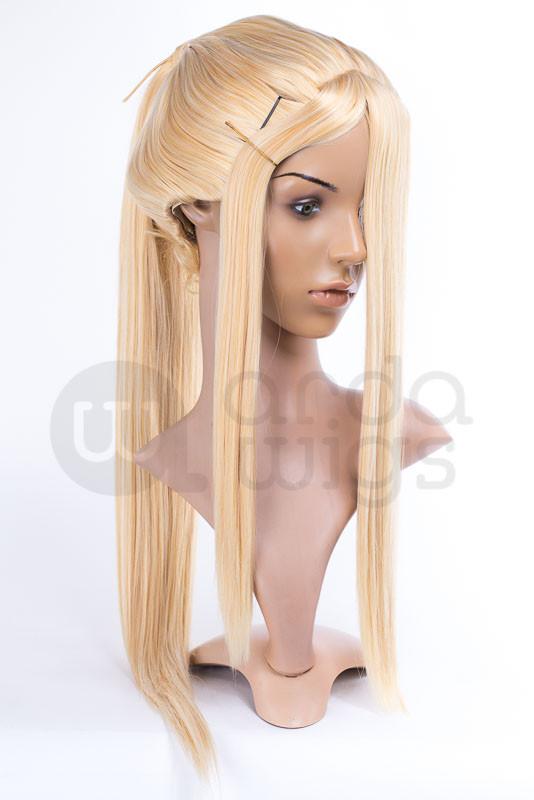 Jasmine CLASSIC (Large - 23")
$0.00 USD $71.00 USD + shipping
Details
This wig's ponytail is attached and is not a clip-on ponytail like the Jeannie. It sports a small 1" (2.5 cm) fringe at the base of the neck to cover your hair. Jasmine has a 2" (5 cm) skin cap where the bangs meet the head, 23" (58.5 cm) long bangs and a length of 27" (68.5 cm) from the base of the ponytail to the end.
There are four combs in the wig to help balance the weight so that the wig doesn't slide off your head, but you may want to secure with bobby pins or a wig grip. 
This ponytail is thick and very heavy. In order to help keep it high on the head, there are shorter wefts around the interior of the ponytail area to help give the wig itself coverage and thickness. These wefts are not as long as the ponytail itself. These shorter wefts only measure around 4" (10 cm). 
2" skin cap at the bangs
Pre-tied
Can be heavy and high maintenance
Untie ponytail and re-tie while wearing for best fit
Heat-resistant up to 420°F
300-325°F recommended
Check out our customer gallery for Jasmine!
PLEASE READ: This wig comes in two cap sizes. If the circumference around your hairline is closer to 21", we recommend the Small cap size. If the circumference around your hairline is closer to 23", we recommend the Large cap size. If your measurement is 22', we suggest going with the larger size if you have thick and/or long hair, though you might fit into the small size if you have short hair such as a pixie cut or a thinner bob. The tightness of the ponytail can increase or decrease the inside sizing. For the best fit, secure the wig's hairline around your own with bobby pins, and re-tie the ponytail while wearing it. 

We offer various tutorials on how to modify our ponytail wigs to make them smaller or larger. We do not offer exchanges or refunds on this wig for size being too large or too small if it has been worn. Please measure your head thoroughly and email us before purchase if you have questions.