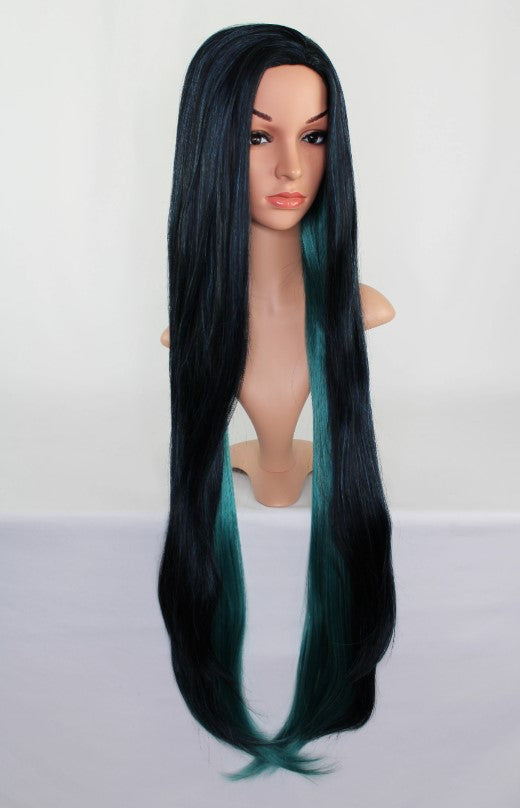 Re SILKY DISCONTINUED
$40.00 USD $58.00 USD + shipping
Details
"
Re: A drop of golden, melodic sun. Our Re comes in Classic or Silky, with Raven (CL-039)/Marianas (SI-039) on top and Mako Green (CL-045)/Persian Green (SI-045) underneath. Like our Claire, the Re has long, backwards-wefted layers makng this wig perfect for styling in a high, thick pony. Neck fringe and crimped base hairs allow for a more natural look at the nape. Please be advised this wig does NOT come in a pre-styled ponytail, allowing you to choose to wear her up or down.

Re measures about 43"" (109 cm) long from crown to end and is layered. This wig has a half-circle skin top in the front that measures 5"" (13 cm) wide and 2.5"" (6 cm) deep.
22.5""(57 cm) cap before stretch

Shortest layer measures 29""(73.5 cm) with the longest layer 43""(109 cm) from hairline

Thicker Style – great for styling

Up-woven wefts for ponytail styling, or wear down if you like!

Heat-resistant up to 420°F, 360°F recommended for Classic; up to 360°F, 310°F recommended for Silky.
Please note: We do our best to display wigs as accurately as possible, but display heads are slightly smaller than life size and colors might appear different based on screen settings. Subsequently, the wig may be shorter on a person or very slightly in color. Please consider purchasing our color samples first if color accuracy is important.
"