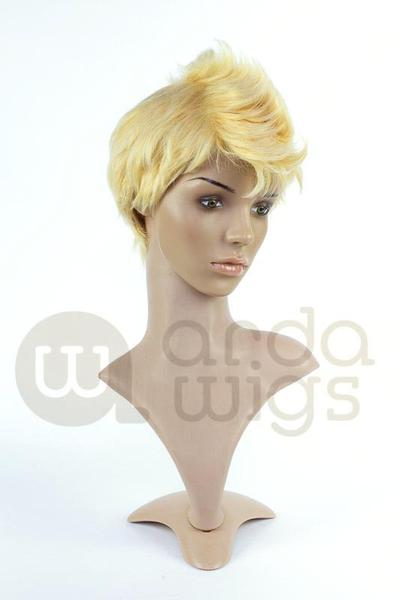 Details
Rufio is short on the sides and approximately 2-4" (5-10 cm) long on the top. This specialty wig is styled into a faux-hawk with lots of pre-teased fibers and no skin top. This wig is relatively thick, but be careful in the back - if you spike it too straight with hairspray, it may show some wefting underneath. The fibers on this style are made to be a bit curled at the tips.

When choosing a multi-coloured Rufio, please keep in mind that some of the fibers may mix with the opposite colour. To get them completely separate, just use a comb to separate, and then blast with a hairdryer!
This style may arrive a bit flat right out of the bag. A good shake will bring the hawk out. 
23" cap before stretch
Faux-hawk
Pre-teased fibers, mostly at the base of the hawk
No skin top
Heat-resistant up to 420°F (300-325°F recommended)
Check out our customer gallery for Rufio!
Please note: We do our best to display wigs as accurately as possible, but display heads are slightly smaller than lifesize. Subsequently, the wig may be shorter on a person.